Episode 42: Kitty vs. Alien by Loki Renard
1 year ago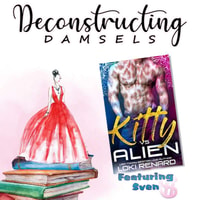 Host Jessica and hostband Sven take an intergalactic trip to a planet that even Barbarella would hesitate to visit. Get ready to sink your fangs into their review of Kitty vs Alien! Also: Readathons, unboxings and other bookish pursuits!
Find Jessica's recent unboxing here: https://youtu.be/xxSycJd10os****
Black Authors Readathon vids by Steph's Romance Booktalk: https://www.youtube.com/watch?v=Tu1YIfhfRAo**** https://www.youtube.com/watch?v=GflyuGtRjc8 Lunar New Year Readathon: Remarkably Lisa: https://www.youtube.com/watch?v=agaN7t06CXQ Lacy Booklover: https://www.youtube.com/watch?v=C1YIqQEcO48
Thanks to Patrons Dee Em Elms, Kerry Purvis, Marlene Cardoso, Kelly of Boobies and Noobies.
Find us on Patreon at http://patreon.com/damselspodcast, on Twitter at damselspodcast and on Instagram at damselspodcast.****
---
Support Deconstructing Damsels by donating to their Tip Jar: https://tips.pinecast.com/jar/deconstructing-damsels
Find out more at https://deconstructing-damsels.pinecast.co
Check out our podcasting host, Pinecast. Start your own podcast for free, no credit card required, forever. If you decide to upgrade, use coupon code r-bdd86a for 40% off for 4 months, and support Deconstructing Damsels.