Episode 47: Ever After (featuring Abigail Kelly of Kingdom of Thirst)
5 months ago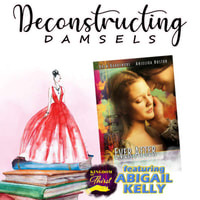 Host Jessica is joined by Abigail Kelly (hailing from The Kingdom of Thirst) to take a look at one of the best romance movies of the 90s: Ever After. Together, they take a look what made the film have a lasting legacy to this day. Naturally, there are also plenty of sidebars to the conversation - such as the ins and outs of monster love as well as the secret peril of the trifold name.
Find The Kingdom of Thirst at https://www.kingdomofthirst.com and Abigail on twitter at https://twitter.com/abigailkkelly !
Thanks to Patrons Dee Em Elms, Kerry Purvis, Marlene Cardoso, and Kelly of Boobies and Noobies.
Find us on Patreon at http://patreon.com/damselspodcast, on Twitter at damselspodcast ,on Youtube and on Instagram at damselspodcast. Linktree: https://linktr.ee/damselspodcast
Support Deconstructing Damsels by contributing to their Tip Jar: https://tips.pinecast.com/jar/deconstructing-damsels
Find out more at https://deconstructing-damsels.pinecast.co
Check out our podcast host, Pinecast. Start your own podcast for free with no credit card required. If you decide to upgrade, use coupon code r-bdd86a for 40% off for 4 months, and support Deconstructing Damsels.