Episode 33: "It happened one Bite" by Lydia Dare, feat. Sarah Blair
2 years ago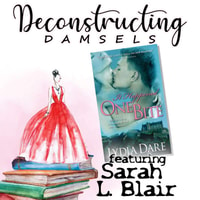 This time, your host Jessica is joined by the creator of paranormal investigator Sidney Lake: Sarah L. Blair. Together, they uncover the mysteries surrounding Lydia Dare's "It happened one Bite" as well as what makes romance so compelling for readers and writers alike.
Our Top Patrons this month are: Dee Em Elms, Kerry Purvis, Marlene Cardoso, Kelly of Boobies and Noobies
Please don't forget to fill out our 2020 feedback survey: https://forms.gle/Q2zaxLQbfHdVDSyx7
You can find Sarah L. Blair and her books at: https://sarahlblair.com
The show music is "Crazy Glue Instrumental" by Josh Woodward. Used with permission.
Find us on Patreon at http://patreon.com/damselspodcast, on Twitter at damselspodcast and on Instagram at damselspodcast.
Support Deconstructing Damsels by donating to their Tip Jar: https://tips.pinecast.com/jar/deconstructing-damsels
Find out more at http://damselspodcast.com
Check out our podcasting host, Pinecast. Start your own podcast for free, no credit card required, forever. If you decide to upgrade, use coupon code r-bdd86a for 40% off for 4 months, and support Deconstructing Damsels.