Episode 41: Spoiler Alert by Olivia Dade, feat. Fiona West
1 year ago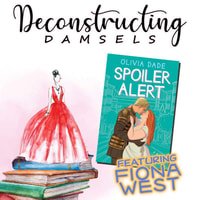 Join host Jessica and guest Fiona West as they talk about Olivia Date's love letter to fandom "Spoiler Alert". Also: Promos, readathons and a peak at exciting things in the pipeline. And when you are done with that, why not go listen to Boobies and Noobies and hear what Jessica thought of "Party Favors" and old new resolutions?
Find Fiona West and her fabulous work in romance at: FionaWest.net 
Find Jessica's guest spot on Boobies&Noobies at: https://boobiepodcast.podbean.com/e/party-favors/ 
And check Jessica's #HRReadathon reading list at: https://twitter.com/damselspodcast/status/1350466670389821440 ****
Thanks to Patrons Dee Em Elms, Kerry Purvis, Marlene Cardoso, Kelly of Boobies and Noobies.
Find us on Patreon at http://patreon.com/damselspodcast, on Twitter at damselspodcast and on Instagram at damselspodcast. Merch store at https://www.teepublic.com/user/damselspodcast.
Support Deconstructing Damsels by donating to their Tip Jar: https://tips.pinecast.com/jar/deconstructing-damsels
Find out more at https://deconstructing-damsels.pinecast.co
Check out our podcasting host, Pinecast. Start your own podcast for free, no credit card required, forever. If you decide to upgrade, use coupon code r-bdd86a for 40% off for 4 months, and support Deconstructing Damsels.