Episode 44 - Fury Rising by Barbra Annino
1 year ago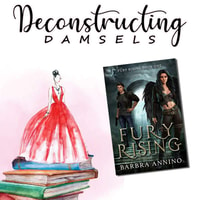 In this episode Host Jessica highlights a grumpy Fury with a penchant for murder and orange Gatorade. What makes Tisi so ragey? Listen and find out - for all true crime fans. Other highlights include an upcoming theme, what to do about ever after, and a mini review on "Mad about Ewe", Susannah Nix' latest novel.
Thanks to Patrons Dee Em Elms, Kerry Purvis, Marlene Cardoso, and Kelly of Boobies and Noobies.
#ChallengingDamsels: http://www.damselspodcast.com/challengingdamsels2021
Find us on Patreon at http://patreon.com/damselspodcast, on Twitter at damselspodcast ,on Youtube and on Instagram at damselspodcast.
Support Deconstructing Damsels by donating to their Tip Jar: https://tips.pinecast.com/jar/deconstructing-damsels
Find out more at https://deconstructing-damsels.pinecast.co
Check out our podcast host, Pinecast. Start your own podcast for free with no credit card required. If you decide to upgrade, use coupon code r-bdd86a for 40% off for 4 months, and support Deconstructing Damsels.