Episode 49: Breaking Badger
1 year ago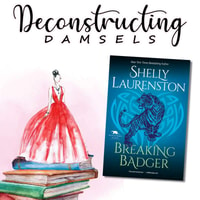 Jessica breaks down badger love in Shelly Laurenston's latest Pride spinoff. How much did she enjoy the advanced reader copy ?  Also: Find out what's to come for Halloween month!
Breaking Badger by Shelly Laurenston is out August 31st, available at all major retailers.
Mentioned Link: https://www.twitch.tv/jurnisplays
Thanks to Patrons The Elms Sisters, Kelly of Boobies & Noobies, Kerry from Muppet Profiles, Holly Mortimer, and Lilith Darville!
Find us on Patreon at http://patreon.com/damselspodcast, on Twitter at damselspodcast ,on Youtube and on Instagram at damselspodcast. Linktree: https://linktr.ee/damselspodcast
Support Deconstructing Damsels by contributing to their Tip Jar: https://tips.pinecast.com/jar/deconstructing-damsels
Find out more at https://deconstructing-damsels.pinecast.co
Check out our podcast host, Pinecast. Start your own podcast for free with no credit card required. If you decide to upgrade, use coupon code r-bdd86a for 40% off for 4 months, and support Deconstructing Damsels.