Episode 22: My Boyfriend is a Bear
a year ago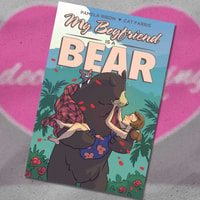 In this episode, host Jessica discovers what happens when "bear meets girl" alongside frequent guest Sven. The comic by Pamela Ribon- as requested by Patron and friend of the show Dee Em Elms - is not only a new medium for the show, but also brand-new for Jessica. Other topics include Birds of Prey, where have all the romcoms gone, and what's happening with RWA and the romance genre.
The Podcast Promo for this episode is "Bitchery of History". You can find it at http://www.thebitcheryofhistory.com/.
This episode's generous Patreon Sponsor is Dee Em Elms whose serialized horror novel "Sidlings" can be found at http://www.sidlings.com/.
The show music is "Crazy Glue Instrumental" by Josh Woodward. Used with permission.
Show Patreon is located at http://patreon.com/damselspodcast. Twitter: @damselspodcast.
Support Deconstructing Damsels by donating to their Tip Jar: https://tips.pinecast.com/jar/deconstructing-damsels
Find out more at http://damselspodcast.com