Episode 28: "Once Ghosted Twice Shy" by Alyssa Cole, feat. Kerry Purvis
1 year ago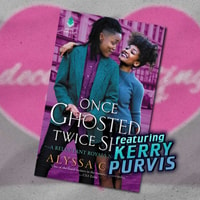 In this episode, your host Jessica is joined by the trekselent Kerry Purvis. Together, they talk about "Once Ghosted, Twice Shy" by Alyssa Cole, immigration, trauma, agency and... Muppets?!
Content warning: Issues related to immigration, miscarriage
Our Top Patreons this time are: Dee Em Elms, Kerry Purvis and Marlene Cardoso.
The show music is "Crazy Glue Instrumental" by Josh Woodward. Used with permission.
Find us on Patreon at http://patreon.com/damselspodcast and on Twitter at @damselspodcast.
Support Deconstructing Damsels by donating to their Tip Jar: https://tips.pinecast.com/jar/deconstructing-damsels
Find out more at http://damselspodcast.com
Check out our podcasting host, Pinecast. Start your own podcast for free, no credit card required, forever. If you decide to upgrade, use coupon code r-bdd86a for 40% off for 4 months, and support Deconstructing Damsels.