Episode 37: Eight Cozy Nights by Julia Wolf (ft Courtney)
1 year ago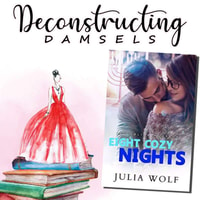 Episode Notes
On the last day of Hanukkah, host Jessica and guest Courtney(The Cult of Domesticity) dish about latkes and love in Eight Cozy Nights by Julia Wolf. Special shout outs to a few beloved podcasts and an unexpected follow.
Thanks to Patrons Dee Em Elms, Kerry Purvis, Marlene Cardoso, Kelly of Boobies and Noobies.
Find Courtney & The Cult of Domesticity at: https://domesticpodcast.podbean.com / https://twitter.com/DomesticPodcast
Find us on Patreon at http://patreon.com/damselspodcast, on Twitter at damselspodcast and on Instagram at damselspodcast.
Merch store at https://www.teepublic.com/user/damselspodcast.
The show music is "Crazy Glue Instrumental" by Josh Woodward. Used with permission.
Support Deconstructing Damsels by donating to their Tip Jar: https://tips.pinecast.com/jar/deconstructing-damsels
Find out more at https://deconstructing-damsels.pinecast.co
Check out our podcasting host, Pinecast. Start your own podcast for free, no credit card required, forever. If you decide to upgrade, use coupon code r-bdd86a for 40% off for 4 months, and support Deconstructing Damsels.