Episode 34 - When a Rogue meets his Match by Elizabeth Hoyt
2 years ago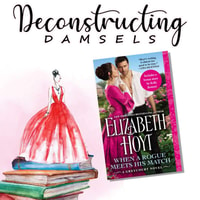 Host Jessica talks about Elizabeth Hoyt's upcoming novel "When a Rogue meets his Match". Be among the first to find out who Messalina Greycourt - the heroine - is comparable to, what image Gideon Hawthorne brings to mind and how the come together to create something new.
Our Top Patrons this month are: Dee Em Elms, Kerry Purvis, Marlene Cardoso, and Kelly (Boobies and Noobies).
Please don't forget to fill out our 2020 feedback survey: https://forms.gle/Q2zaxLQbfHdVDSyx7
Our merch can be hands-gotten-on at: https://www.teepublic.com/user/damselspodcast
Leftover Pets: https://www.leftoverpets.org
Find us on Patreon at http://patreon.com/damselspodcast, on Twitter at damselspodcast and on Instagram at damselspodcast.
Show music is "Crazy Glue Instrumental" by Josh Woodward. Used with permission.
Support Deconstructing Damsels by donating to their Tip Jar: https://tips.pinecast.com/jar/deconstructing-damsels
Find out more at http://damselspodcast.com
Check out our podcasting host, Pinecast. Start your own podcast for free, no credit card required, forever. If you decide to upgrade, use coupon code r-bdd86a for 40% off for 4 months, and support Deconstructing Damsels.