Episode 39: The Last Episode of 2020
2 years ago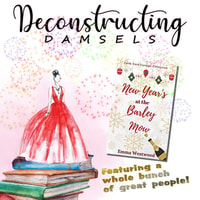 It's housekeeping time as 2020 closes. And host Jessica reviews the novella "New Year's Eve At The Barley Mow" by Emma Westwood.
But this episode has a little bit more. Listen as the romance community offers favorite 2020 reads. It's all about comfort reads, right? And the many links below. 10 for the price of one.
Thank you everyone as season 2 comes to a close. May the new year be a moment of brightness in the muggy darkness.
Housekeeping!
Episode Guest List Ali Williams Adele Buck/Buchanan Andrea Martucci Bex Goos Caitlyn Lynch Diana of Happily Ever Aftermath Eve Pendle Kiley Dunbar Melanie Duncan
All the Links: Romance Recs of 2020: https://damselspodcast.com/2020/12/31/romance-recs-for-2020/ Top Listens of 2020: https://damselspodcast.com/2020/12/30/top-listens-2020/
Thanks to Patrons Dee Em Elms, Kerry Purvis, Marlene Cardoso, Kelly of Boobies and Noobies.
Find us on Patreon at http://patreon.com/damselspodcast, on Twitter at damselspodcast and on Instagram at damselspodcast.
Merch store at https://www.teepublic.com/user/damselspodcast.
Support Deconstructing Damsels by donating to their Tip Jar: https://tips.pinecast.com/jar/deconstructing-damsels
Find out more at https://deconstructing-damsels.pinecast.co
Check out our podcasting host, Pinecast. Start your own podcast for free, no credit card required, forever. If you decide to upgrade, use coupon code r-bdd86a for 40% off for 4 months, and support Deconstructing Damsels.