Episode 40: More than We Bargained for by Fiona West, feat. Kristin
1 year ago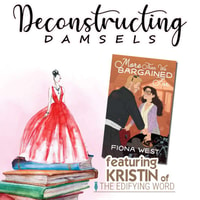 This time, host Jessica is joined by Kristin of The Edifying Word to talk about "More than we Bargained for" by Fiona West. They discuss accidental pregnancy, new beginnings, and love in the middle of personal chaos. Also, find out what Jessica finds so challenging about life as a damsel and where listeners can rise to the challenge! Find Kristin at https://theedifyingword.com and on twitter as @theedifyingword 
Thanks to Patrons Dee Em Elms, Kerry Purvis, Marlene Cardoso, Kelly of Boobies and Noobies.
Find us on Patreon at http://patreon.com/damselspodcast, on Twitter at damselspodcast and on Instagram at damselspodcast.
Merch store at https://www.teepublic.com/user/damselspodcast.
Support Deconstructing Damsels by donating to their Tip Jar: https://tips.pinecast.com/jar/deconstructing-damsels
Find out more at https://deconstructing-damsels.pinecast.co
Check out our podcasting host, Pinecast. Start your own podcast for free, no credit card required, forever. If you decide to upgrade, use coupon code r-bdd86a for 40% off for 4 months, and support Deconstructing Damsels.