Episode 48: Dear Enemy
1 year ago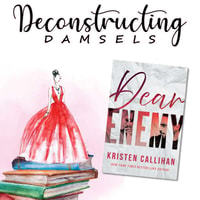 Jessica returns with an enemies to lovers trope in Dear Enemy, the first in Kristen Callihan's current Amazon series. Does Macon Saint deserve Delilah Baker? Let's find out!
Jessica's review of "Make it Sweet": https://damselspodcast.com/2021/03/31/make-it-sweet-by-kristen-callihan/
Thanks to Patrons The Elms Sisters, Kelly of Boobies & Noobies, Kerry from Muppet Profiles, Holly Mortimer, and Lilith Darville!
Find us on Patreon at http://patreon.com/damselspodcast, on Twitter at damselspodcast ,on Youtube and on Instagram at damselspodcast. Linktree: https://linktr.ee/damselspodcast
Support Deconstructing Damsels by contributing to their Tip Jar: https://tips.pinecast.com/jar/deconstructing-damsels
Find out more at https://deconstructing-damsels.pinecast.co
Check out our podcast host, Pinecast. Start your own podcast for free with no credit card required. If you decide to upgrade, use coupon code r-bdd86a for 40% off for 4 months, and support Deconstructing Damsels.